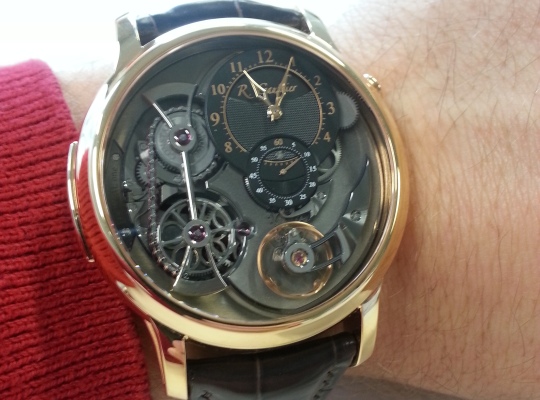 © The Watch Lounge 2013
It's shaping up to be a very exciting week here on the The Watch Lounge. Now, I know what you're thinking, isn't every week an exciting week? Well, yes, that is true but you'll just have to take my word for it that this one is extra special!
As some of you might know already (well, my instagram followers anyway at least) I have just made a whistle-stop tour of Geneva over the past weekend with the great guys from WatchAnish.
On the itinerary were meetings with some of my favorite brands including MB&F and De Bethune, an afternoon at the Geneva Time Exhibition and the incredible opportunity to get hands-on with the latest prototype of Romain Gauthier's Logical One (pictured above). I say incredible because this was the first time anyone outside the brand had seen one in the flesh!
Throw in an impromptu photo-shoot with a vintage, replica Mercedes 300SLR (with a very famous owner), a sneak peek at what HYT has in store for Basel World and a first-hand explanation from Mr. Christophe Claret himself as to how his sublime timepieces work, not to mention the opportunity to catch up with some old friends who are working on some seriously cool new tricks and it's not hard to see why this is shaping up to be such a fun week.
So, what can you expect? Well, in no particular order; a hands-on review of Romain Gauthier's Logical One (a world-wide first), a hands-on review of the H1 by HYT, a hands-on review of MB&F's HM5, an in-depth look at Hautlence's new collection, some extremely cool videos and photos and if we're lucky even some live coverage from the SIHH made by possible by TWL contributor Ian Ellery.
And of course so much more, so stay tuned, it's going to be a great week, month, year!
Tom is the founder and editor of The Watch Lounge. Together with his team he is dedicated to bringing you the best, original content you won't find anywhere else on the net.