Today I am going hands on with one of latest additions to Hublot's Classic Fusion collection; the Classic Fusion 8-day Power Reserve.
The Classic Fusion 8-day Power Reserve
Now, I should probably start off by saying I am not the biggest fan of Hublot watches generally speaking. Don't get me wrong, I think they are well made, quality timepieces but typically they are just too big (and if I'm being really honest, a little too crass) for my tastes.
That being said, the Classic Fusion collection has always been somewhat of a saving grace in my eyes for Hublot. Characterised by softer, more classic lines, not to mention significantly slimmer cases, the Classic Fusion range is for those who have more traditional tastes but still appreciate the modern touches of a Hublot watch.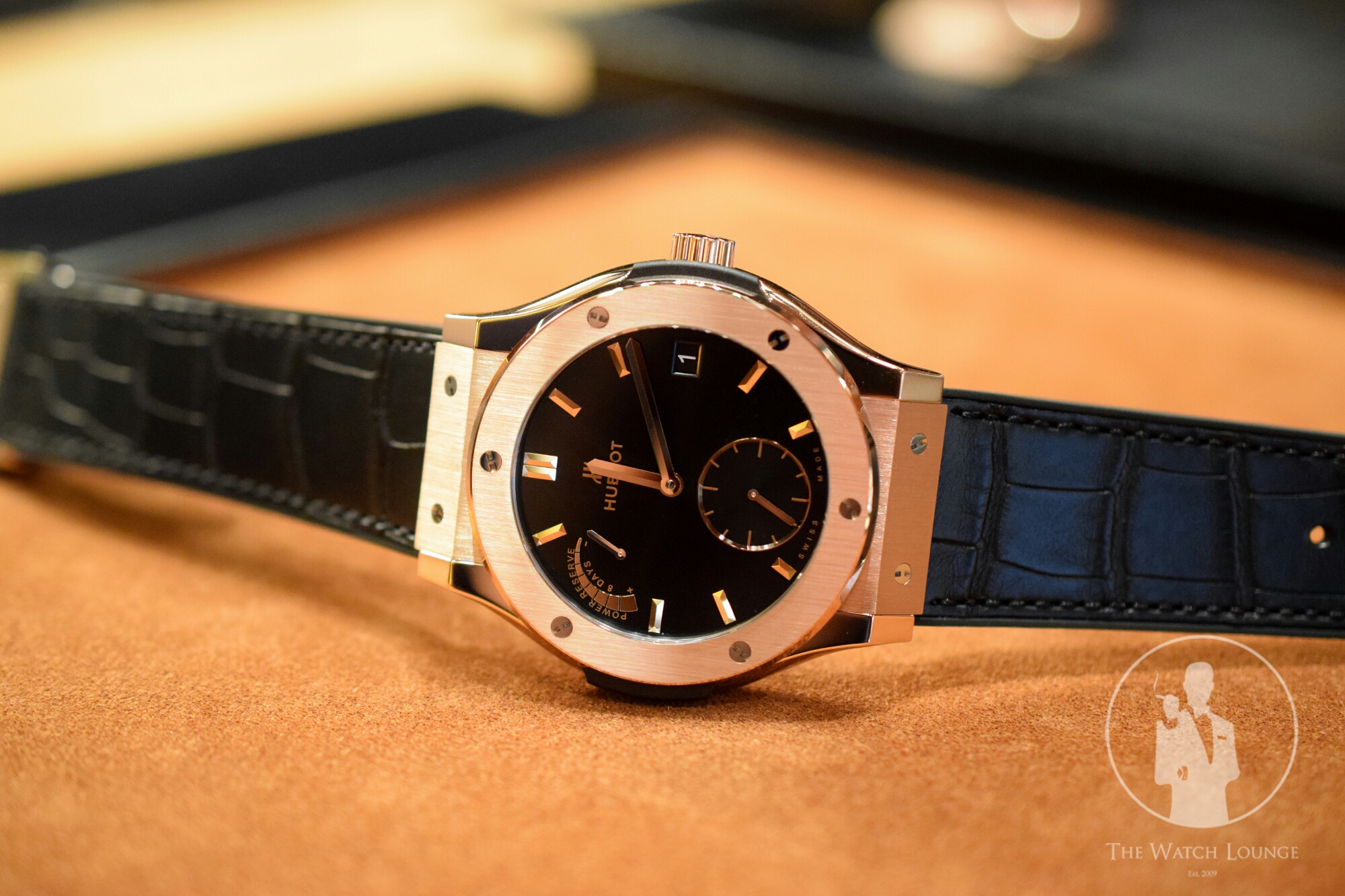 In this regard the new Classic Fusion 8-day Power Reserve does not disappoint. Introduced at Baselworld earlier this year, there are two versions to choose from, one in titanium and the other in Hublot's so called King Gold (which the brand says is extra precious gold containing 5% platinum.) Personally I prefer the latter (pictured above), even though I'm not normally partial to gold watches, because I think it contrasts better with the black dial, giving the watch a bit more character.
As the name suggests the Classic Fusion 8-day Power Reserve offers an impressive 8 days (that's 192 hours) of power in reserve, which is a first for Hublot. Equally as impressive is the fact that the manually wound, 209 component movement is just 4.40mm thick, giving the case a very nice (and very comfortable) profile on the wrist.
The only downside is that the case is still 45mm in diameter, too large for a classically styled watch in my opinion. I realise this is part of Hublot's 'modern' influence, but I still would have preferred to see the Classic Fusion 8-day Power Reserve in the 42mm – 43mm range.
Aesthetically the watch is quite attractive in a minimalist sort of way. The polished and satin-finished 18K King Gold case works well with the black sunray satin-finished dial, with the polished gold-plated appliques and hands tying the two together nicely. At 10 o'clock the power reserve indicator gives a nice visual indication of the remaining juice, whilst small seconds are shown on a separate sub-dial at six o'clock. A date window completes the look at 3 o'clock.
Turning the Classic Fusion 8-day Power Reserve over you get a nice view of the movement through the sapphire caseback. The finishing is clean and precise, although not particularly outstanding. This is not one of Hublot's manufacture movements and so there is less focus on it than other models.
Finishing the look is a black alligator leather strap.
Pricing on the Hublot Classic Fusion 8-day Power Reserve is set at US$32,500 for the King Gold version and US$16,400 for the Titanium version, both of which I think are too high given that this is not a manufacture movement and there are no real complications other than the power reserve to speak of.
Needless to say though I am sure Hublot will still sell plenty of both.
If you would like more information on the new Hublot Classic Fusion 8-day Power Reserve please visit the official Hublot website.
Subscribe to TWL to get original content like this direct to your inbox.